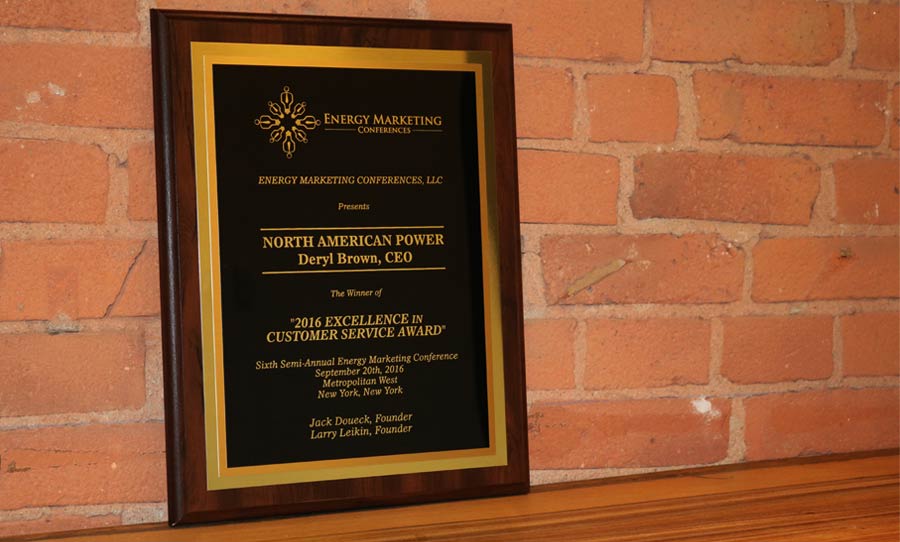 North American Power Wins 2016 "Excellence in Customer Service" Award
We're thrilled to let you know that by choosing us as your supplier, you will receive best in class customer service experiences! We recently won the 2016 "Excellence in Customer Service" award from the Energy Marketing Conferences, which is no coincidence. We've been working hard to improve your experience with North American Power over the last few years.
How did we do it?
Some of ways we won this award was by developing efficiencies around pricing and billing to reduce errors, optimizing our call centers to ensure your hold time is as low as possible.
North American Power has revamped our customer communications to make things even easier to understand.
We introduced our home energy report, Understandabill, which provides our customers with monthly insights into how (and how much) your home uses, and what you could do to use (and pay) less.
Our team is also working to ensure that you get renewal notifications so you can stay up to date on your rate and when your current offer is coming to an end. These reminders are our way to helping you get on a brand new rate plan, for continuous coverage.
We recently launched our brand new website with great content. In addition, a new mobile version of the site was launched to give you a truly mobile-friendly experience.
Our customers are important to us and we are continuing to work hard to ensure your experience with North American Power is the best it can be. Please let us know how we can help, we're listening.
Contact Us
You have questions or feedback? We're here to listen and answer all questions. Feel free to send us an email or give us a call. 
Email: Customercare@napower.com
Phone: 888.313.9086