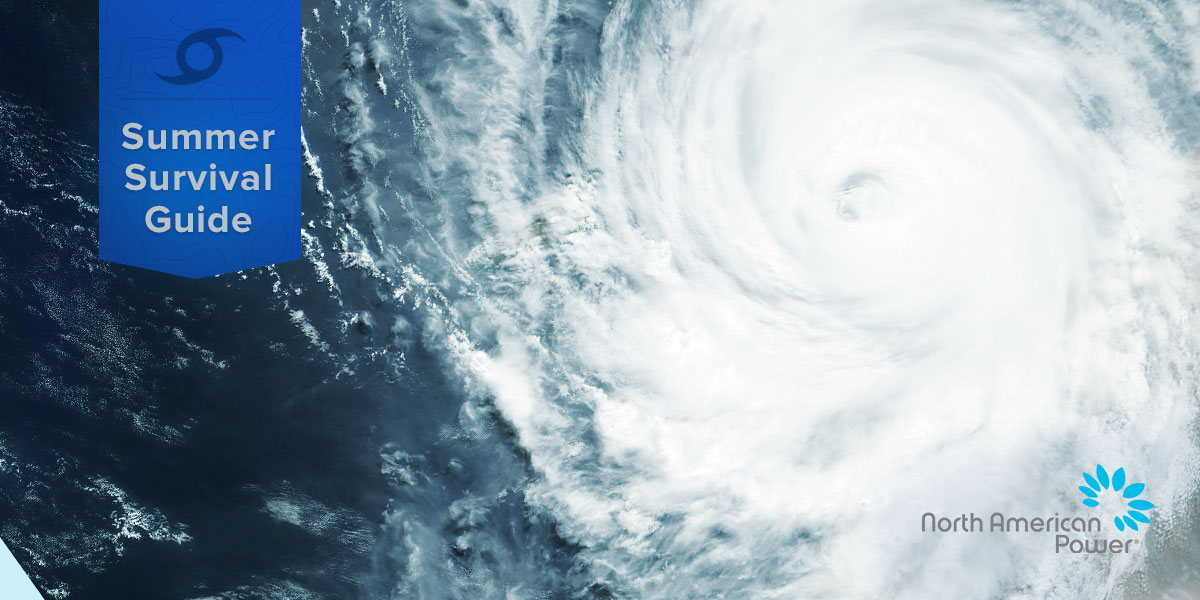 Your Summer Survival Guide: Reduce Energy and Prepare for Hurricanes
Summer is here, which means barbecues, swimming, and making memories. However, it also could mean higher electric usage and the start of hurricane season—but with a little awareness and preparation, you won't have to worry about either one.
Reduce Your Energy Usage
If you want to beat the heat here are several simple energy saving tips:
Keep Your Thermostat at 78 Degrees – Did you know that when you set your thermostat, every degree above 72 degrees could equate to a 3% savings on your electric use? Smart Energy1 reports that if you can handle your home at 78 degrees, you can cut your bill by a whopping 18%.
Cover Your Windows – The windows can be the biggest culprit of energy use in your home. Why? Because they let in the hot sun that heats up your home's air, causing the air conditioner to run on overdrive. To make sure this doesn't happen, Forbes2 recommends keep your blinds drawn during the hottest hours of the day. You may also consider placing trees and other landscaping touches outside your windows to provide even more insulation.
Close Doors/Vents – If you spend most of your time downstairs during the day, make sure you close the doors of the rooms you are not using upstairs. This way, there is less air for your air conditioner to cool.
Be Ready for Hurricanes
Not only is summer hot, it is the start of hurricane season in the eastern part of the country. How you fare if one should hit your home has a lot to do with how prepared you are. To make sure you can get through one without trouble, you will want to follow these steps, as recommended by ePACT.3
For a Hurricane Watch
A hurricane watch is issued if a hurricane is expected to hit land within 48 hours. At this point, you will want to:
Bring in any objects that could be carried away by heavy winds, including furniture, toys, tools, etc.
Make sure you have a full tank of gas in your car in case you need to evacuate.
Secure your doors and windows with wooden boards or storm shutters.
Double check that your emergency kit is well stocked with a several-day supply of food and water for your family.
Keep a close eye on the news to see if the watch has escalated to a warning.
For a Hurricane Warning
Once a hurricane warning is issued, that means the hurricane is quickly approaching and it is crunch time. When this occurs, you will want to:
Pay attention to evacuation orders and follow them if you are advised to evacuate.
If not evacuated, stay inside and away from any glass or windows.
Fill up your tub and any clean containers you have with drinkable water.
Turn off your appliances, including your water, electricity, and gas, to prevent fires.
The summer is one of the most enjoyable seasons of the year. As long as you're diligent with your electric usage and keep on eye on any hurricane warnings, you are sure to make plenty of unforgettable memories. To learn more about how to reduce your energy expenses by choosing us as your third-party energy supplier, contact us now.
Sources:
1. https://www.smartenergy.com/seven-ways-to-save-energy-in-the-summer/
2. https://www.forbes.com/sites/investopedia/2013/07/04/5-easy-fixes-for-a-high-summer-electric-bill/#1f7c33166a65
3. https://www.epactnetwork.com/corp/blog/prepare-natural-disasters-summer-months/